Assistant Professor Positions in BAU, Sabour, India- Total Post = 310
Designation/Position- Assistant Professor Positions in BAU
Bihar Agricultural University, Sabour, India invites application for Assistant Professor Positions in BAU from eligible and interested candidates
About- Bihar Agricultural University, Sabour invites online applications from eligible candidates to fill up the 310 (three hundred and ten) vacancies for the post of Assistant Professor-cum – Junior Scientist I Junior Scientist. – cum Assistant Professor on direct recruitment basis in the academic / research pay level-10 in various disciplines. The candidates are required to fill up the online application form and also to submit print out of the online application form along with desired / relevant documents to claim their eligibility with prescribed fee.
Research/Job Area-
Agri Business Management
Agricultural Economics
Agricultural Engineering
Agricultural Statistics
Agriculture Chemical
Afro Forestry
Agro–meteorology
Agronomy
Live Stack Production & Management
Bio-chemistry
Bio-informatics
Biotechnology
Computer Application Science
English
Entomology
Environmental Science
Extension Education
Fermentation Technology
Food Analysis and Quality Control
Food Processing
Food Technology / Science
Genetics
Horticulture (Medicinal & Aromatic Plant)
Horticulture (Floriculture & Land Soaping)
Horticulture (Md. / Veg. Science)
Horticulture (Post Harvest Tech.)
Horticulture (Pomologyi Fruit)
Information Technology
Insect Physiology (Entomology)
Journalism
Lab. Instrumentation and Control
Mass Media & Communication
Mathematics
Microbiology
Nanotechnology
Nematology
Plant Breeding & Genetics
Plant Pathology
Plant Physiology
Processing Engineering
Remote Sensing
Seed Science & Technoloi4y
Sericulture
Soil Sci. & Agril. Chemistry
Textile Technology
Water Science & Technology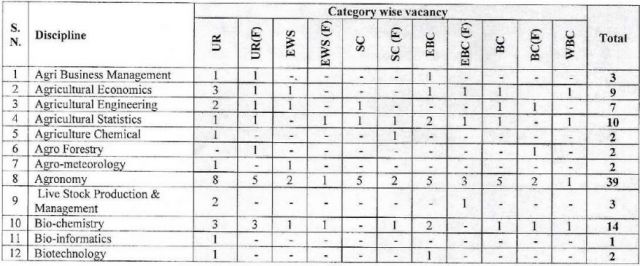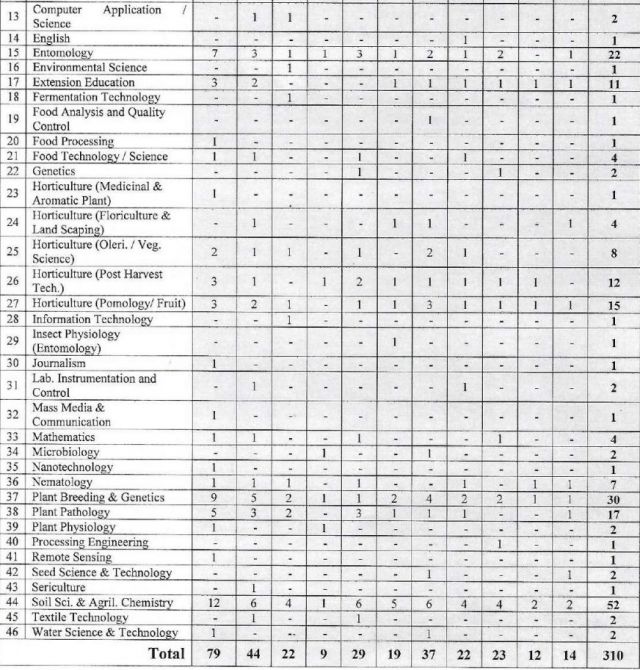 Location- Bihar Agricultural University, Sabour
Ambizione Postdoc Grants 2020 – Swiss National Research Foundation
Faculty Positions in Central University of Gujarat, India, Total Post =…
Eligibility/Qualification–
Good academic record with at least 55% of the marks or an equivalent grade of B
in the 7 point scale with letter grades 0,A,B,C,D,E and F at the Master's degree level, in the relevant subject from an Indian University, or, an equivalent degree from a foreign University.
NET shall remain compulsory along with one publication in NAAS (National
Academy of Agricultural Sciences, New Delhi) rated refereed journal for recruitment to the post of Assistant Professor and equivalent in the disciplines in which NET is conducted.
Essentiality of NET can be waived off for the candidates holding Ph.D. degree provided it has been done with course work as prescribed by the UGC Regulations, 2009 and the candidate has at least two full length publications having a NAAS rating not less than 4, on the last date of submission of application.
Those candidates with Ph.D. degree without course work will not qualify for NET exemption.
A relaxation of 5% may be provided from 55% to 50% of the marks, at the master's level for the SC/ST category.
A relaxation of 5% may be provided from 55% to 50% of the marks to the Ph,D. Degree holders who have passed their Masters' Degree prior to 19th Sept., 1991
3. Ph.D. if available shall be preferred
MAXIMUM AGE LIMIT
i. Maximum age as per Resolution No: 294 dated 07.01.2016 issued by General Administration Department, Govt. of Bihar, Patna is as follows:-
Unreserved Category (Male) — 37 Yrs,
Backward Class and Extremely Backward Class (Male & Female) — 40 Yrs.
Unreserved Category (Female) — 40 Yrs,
Scheduled Castes and Scheduled Tribes (Male & Female) — 42 Yrs.
Job/Position Description-
PAY LEVEL :- Academic / Research Pay Level- 10 (57,700-1,82,400)
The application fee as applicable under below mentioned categories is to be paid only through the payment gateway by online Internet flanking / Debit Card / Credit Card.
UR / BC / EBC EWS : Rs. 1000/-
Divyang (PWD) /Female Candidate /SC / ST of Bihar State only : Rs. 250/-
SELECTION PROCESS :-
Academic Qualification, Experience, Recognition/Awards/Special Attainments, Publications and Extra-curricular activities shall carry 80 marks and Interview shall carry 20 marks. The summary of marks distribution is given below:
Sl.
Criteria
Maximum
Schedule
No,
marks
1.
Academic Qualifications
60
2.
Experience in professional field
02
The details of
3.
Recognitions & awards/special attainments
03
evaluation criteria
4.
Extra-curricular activities
05
for award of marks
5.
Publications
10
is annexed as
6.
Interview
20
Schedule-III
Total
100
How to Apply-
Interested candidates have to submit the ONLINE APPLICATION before the last date (i.e. 19/03/2020 Thursday) till 23:59:59 Hrs.
Important Note :- The print out (hard copy) of the online application (one copy) and Summary sheet (09 copies) along with
Self-attested copies of all the supporting documents uploaded like certificates for age proof, qualification, experience, caste, etc; and
Endorsement by the Employer (if, presently employed in Govt./PSU/Autonomous Deemed).
(duly numbered each page in the manner indicated here as :- If total number of page is
100, the page should be numbered as 1/100, 2/100 ……………… 99/100, 100/100)
should reach the following address on or before 04/04/2020 (Saturday) upto 5:00 PM
by registered / speed post of India post only.
Officer-In-charge (Recruitment)
Bihar Agricultural University, Labour-813210,
Bhagalpur, Bihar (India)
Last Date for Apply– 19 March 2020
The last date of submission of online application and fees – 19/03/2020
The last date of submission of self attested printed online application along with relevant I desired documents and the print of the online fees receipt by registered I speed post- 04/04/2020
The envelope containing the Online filled Application Form should be superscribed as "Application for the post of ASSISTANT PROFESSOR CUM JR. SCIENTIST/ JR. SCIENTIST CUM ASSISTANT PROFESSOR (Name of discipline …………………………………………………………… )" and Advertisement No. 01/2020 dated 21.01.2020 on its top.
Join Our Discussion Forum – Keep your view, share knowledge/opportunity and ask your questions