Faculty Position 2020 in IIITDM Kancheepuram, Chennai, India
Designation/Position- Faculty Position 2020 in IIITDM
IIITDM Kancheepuram, Chennai, India invites application for Faculty Position 2020 in IIITDM from eligible and interested candidates
About- Indian Institute of Information Technology Design and Manufacturing, Kancheepuram (IIITDM Kancheepuram) is an Institute of National Importance established in 2007 by the Ministry of Human Resources Development, Government of India. This institute is located at the outskirts of Chennai (approximately 25 Km from Chennai Airport) in the close proximity of the IT corridor, Industrial and Educational Institutions. It is a centre for higher learning in Design and Manufacturing oriented Engineering Education. The institute offers Under Graduate, Post Graduate, Dual Degree programme in the areas of Computer Science, Electronics & Communication Mechanical Engineering and Smart Manufacturing along with inter disciplinary Ph.D programmes in the core and applied areas of Science and Engineering. Faculty Position 2020 in IIITDM
Research/Job Area- Computer Science and Engineering, Electronics and Communication Engineering, Mechanical Engineering and Design, Physics, Mathematics and English
Computer Science and Engineering
Computer Architecture/High Performance Computing/Parallel Computing/ Algorithm Design
Operating Systems/OS Kernels/Device Drivers
Computer Networks / Sensor Networks / High Speed Networks / Mobile Networks / Adhoc Networks.
Data Mining / Artificial Intelligence / Machine Learning / Pattern Recognition / Deep learning
Information Security/Recommender Systems/ Health Care Informatics/Big Data Analytics
IOT / Embedded systems.
Electronics and Communication Engineering
Analog/Digital/Mixed Signal/ VLSI Circuit Design
RF/Microwave/Antenna
Digital Signal Processing/Biomedical Signal Processing/ Image Processing
Physical layer Communication/Networking
IOT / Embedded systems.
Mechanical Engineering –
(a) Manufacturing / Smart Manufacturing / Production Engineering and its relevant area.
(b) Robotics/Mechatronics
Design –
(a) Product Design
(b) Engineering Design
• Physics
• Mathematics
• English
Location- Indian Institute of Information Technology Design and Manufacturing, Kancheepuram (IIITDM Kancheepuram), Chennai, India
NIT Recruitment 2020, National Institute of Technology Delhi (NITD)
Eligibility/Qualification–
Permanent faculty positions are open to Indian Nationals, Persons of Indian Origin (PIO) and overseas citizens of India (OCI).
Appointment of foreign nationals for fixed period on contract basis is permissible.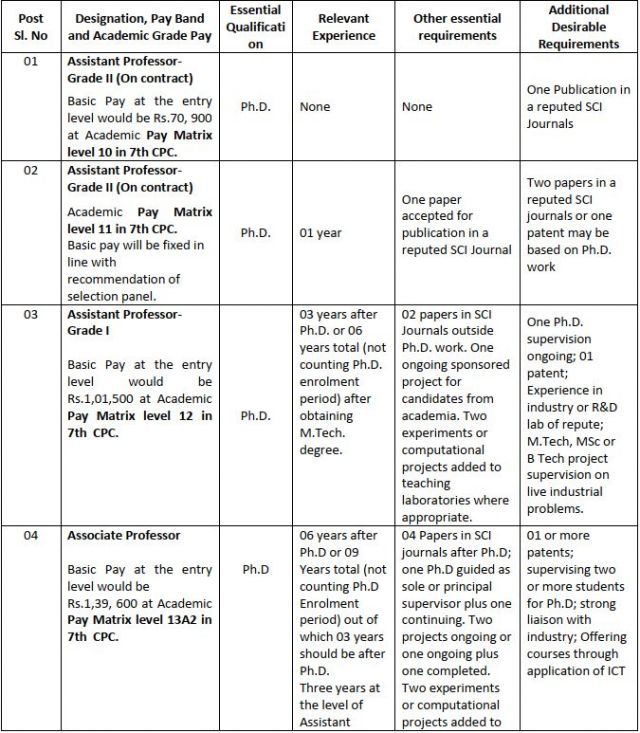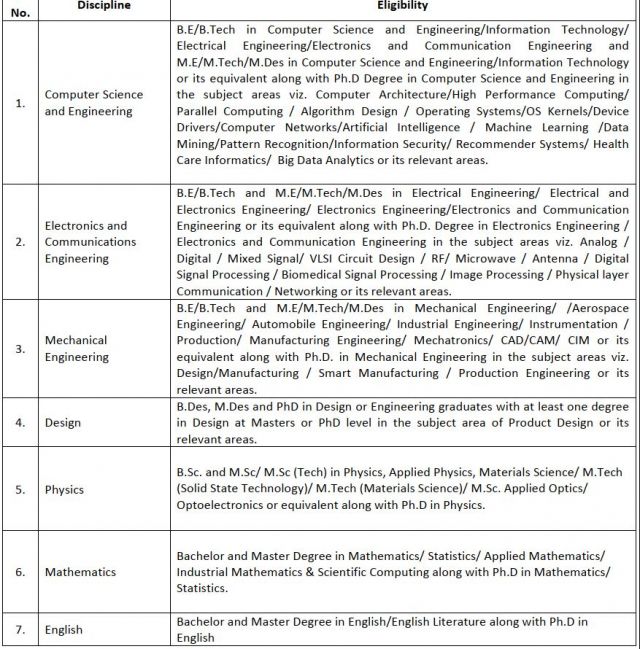 Job/Position Description- IIITDM Kancheepuram invites online application from individuals having Doctoral degree from reputed Institutions from India and abroad with an excellent academic record and high quality research, product design & development and commitment to teaching for faculty positions at the level of Professor, Associate Professor and Assistant Professor.
Applicants fee for General / EWS / OBC category= Rs.500 through online and indicate the Reference number (DU number) in the online application.
No application fee is required for Women, SC/ST, and Physically Challenged Candidates.
The date and time of Interview will be informed
How to Apply- Applicants are required to submit on-line application and the candidates applying for more than one post are required to submit application for each discipline separately. Enclosures, if any, in support of application are to be uploaded as separate documents (pdf preferred) along with the application form.
A detailed Academic Profile, inter alia, including the following information is required to be submitted:
A Teaching Plan
A Research Plan
Details of Journal publications : (SCI Only)
Details of Awards, Patents, Prizes etc.
Research Guidance (only Ph.D.with formal Guide Status)
Details of Externally funded / Sponsored projects
Industrial Experience and Consultancy
Other Activities
For Contact- Any query contact:
Email: [email protected]
Tel : 044 2747 6312 / 6313
Last Date for Apply– 27 March 2020