Faculty Position 2020 in Indira Gandhi University, Meerpur, Haryana, India
Designation/Position- Faculty Position 2020
Indira Gandhi University, Meerpur, Rewadi (Haryana), India invites application for Faculty Position 2020 from eligible and interested candidates
About- Indira Gandhi University Meerpur, Rewari was established on September 07, 2013. The University is committed to work vigorously for the all-round personality development of students by making them not just outstanding professionals but also good individuals with ingrained human values. The university campus is situated in village Meerpur at a distance of about 10 Km from district headquarter of Rewari, and is about 300 kms from Chandigarh, the State Capital. A State University Established under Haryana Act No. 29 of 2013) Recognized u/s 12-B & 2(f) of UGC Act, 1956.
Research/Job Area- Biotech (UR-01), Botany (UR-01), Chemistry (UR-01), Geography (EWS-01, EX-Servicemen-01), Law (BC.B-01, SC-01), Management (UR-01, EWS-01), Physics. ( UR-01, SC-01), Psychology (UR-01), Social Work (UR-01), Yoga (SC-01), Zoology (UR-01, EWS-01).
Location- Indira Gandhi University, Meerpur, Rewadi (Haryana), India
Research Associate positions 2020 in CeNS, Bengaluru, India
Post Doctoral Research Fellowship (PDRF) Positions in IISER Tirupati
Eligibility/Qualification–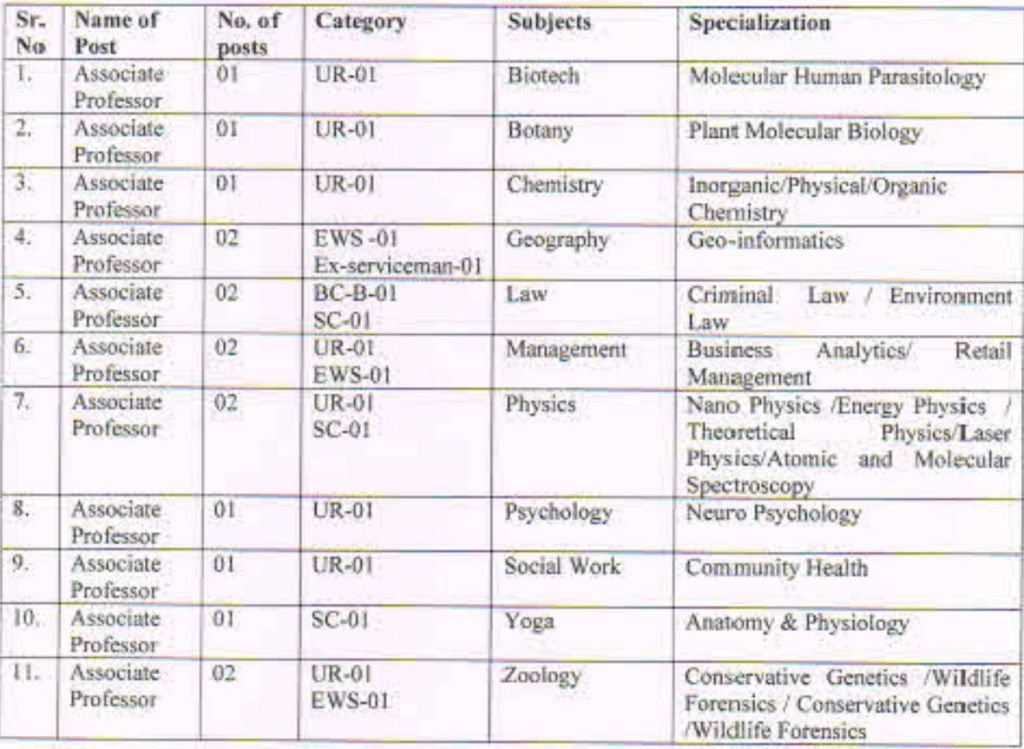 Job/Position Description- Online applications are invited from eligible candidates for the posts of Associate Professor (Rs. 131400-217100) as per CPC pay Matrix Level-13A) in various subjects
Advt. No 05/2020
How to Apply- The Hard copy of online submitted application form along with photocopies of required certificates and documents should reach `The Registrar, Indira Gandhi University. Meerpur, Rawari latest by 08/05/2020 (5 p.m.).
Last Date for Apply– 28 April 2020
Join Our Discussion Forum – Keep your view, share knowledge/opportunity and ask your questions