Faculty Position in MANUU (a Central University), Hyderabad, India
Designation/Position- Faculty Position in MANUU
Maulana Azad National Urdu University, Hyderabad (Telangana), India invites application for Faculty Position in MANUU from eligible and interested candidates
About- Maulana Azad National Urdu University (MANUU) is a Central University established at National Level in 1998 by an act of Parliament to promote and develop the Urdu language and to impart vocational and technical Education in Urdu medium through conventional and distance modes. The Headquarters of the University is at an outstanding central location-Gachibowli, Hyderabad, sprawled over 200 acres. The students and staff of the University are drawn from throughout India. They are attracted by its commitment to excellence in quality Urdu education in all disciplines of knowledge. Faculty Position in MANUU
Research/Job Area-
Professor: Education-6, Women Education-1, Political Science-1, Islamic Studies-1, Computer Science &
Information Technology (CS &IT)-1.
Associate Professor: Education-4, Mass Communication & Journalism-1, Social Work-1, Chemistry-1,
Economics-2, Sociology-1, English-1, Public Administration-1, History-1, History (DDE)-1.
Assistant Professors: Education-9, Kashmiri-1.
Head of the Department (HoD) for Polytechnic: Electrical & Electronics Engineering-1, Automobile
Engineering-1.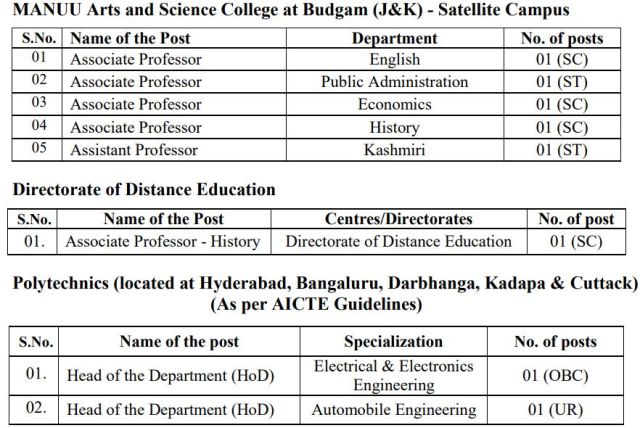 Location- Maulana Azad National Urdu University, Hyderabad (Telangana), India
School of Education & Training, Hyderabad and Colleges of Teacher Education (CTEs)
Departments under the School of Sciences, School of Arts & Social Sciences & School of Languages, Linguistics & Indology, School of Technology and Satellite Campuses at Lucknow
MANUU Arts and Science College at Budgam (J&K) – Satellite Campus
Directorate of Distance Education
Polytechnics (located at Hyderabad, Bangaluru, Darbhanga, Kadapa & Cuttack)
British Council, Newton Bhabha Fund – Early Career Researchers Funding
IIT Postdoctoral Fellowship 2020 at IIT Madras, Chennai, Tamil Nadu, India
Job/Position Description-
Selected Candidates shall be liable to be posted at Main Campus, Hyderabad, or any of the Institutions of the University in the country depending upon the requirements and exigencies of service.
The Qualifications as prescribed by the UGC (www.ugc.ac.in) / NCTE as the case may be are applicable from time to time.
As per UGC Regulations, 2018, a relaxation of 5% may be provided from 55% to 50% of the marks to the Ph.D. Degree holders, who have obtained their Master's Degree prior to 19t h September, 1991.
SC/ST/PWD and Woman candidates are exempted from the payment of registration fee.
Pay Scales:
UGC Pay scales:
Professors- 1,44,200-2,18,200/- (Academic Level 14)
Associate Professors- 1,31,400-2,17,100/- (Academic Level 13A)
Assistant Professors- 57,700-1,82,400 (Academic Level-10)
Head of the Department (HoD)- 1,31,400-2,04,700/- (Academic Level 13A1)
How to Apply- The candidates shall submit the filled-in application Form along Mwith copies of required documents together with registration Fee of `500/- through crossed Demand Draft drawn in favour of Maulana Azad National Urdu University, Hyderabad, on any Nationalized Bank payable at Hyderabad.
The filled-in application should reach through Speed/Registered post on or before 29 May 2020 to:
Deputy Registrar (Establishment & Recruitment-I),
Room No.110 (1st Floor) Administrative Block,
Maulana Azad National Urdu University,
Urdu University Road, Gachibowli,
Hyderabad – 500 032 (Telangana)
Those who are submitting an application through post must enclose a self-addressed envelope with a `5/- postal stamp.
The applicant must write the name of the post applied, his/her name, and address on the back of the Demand Draft (Cheques / Money Orders / Postal Orders will not be accepted).
Applications received after the last date and with incomplete information or without requisite fee will be summarily rejected.
The University will not be responsible for any postal delay at any stage.
Last Date for Apply– 29 May 2020 (Extended Date)