Faculty Positions in IIIT Dharwad, Karnataka, India
Designation/Position- Faculty Positions in IIIT Dharwad
Indian Institute of Information Technology Dharwad, Karnataka, India invites application for Faculty Positions in IIIT Dharwad from eligible and interested candidates
About- Indian Institute of Information Technology Dharwad is an Institute of National Importance established under an Act of Parliament (23 of 2017) in public-private-partnership (PPP) mode between the Ministry of Human Resource Development, Government of India, Government of Karnataka and industry partner KEONICS. As a not-for-profit institute of higher learning in the area of Information Technology (IT), the primary objective of IIIT Dharwad is to address the skill gap in high-end information technology and thereby enable India to remain its global leadership role in IT and allied areas. IIIT Dharwad currently offers B.Tech and Ph.D. Degree programs in IT-related areas.
Research/Job Area- 
Current areas of interest for the Institute include data science, data analytics, AI, machine learning, blockchain, cyber-security,
algorithms, theoretical computer science, robotics, cyber-physical systems, electronic communication, signal processing, IoT, embedded systems, statistics, mathematics, economics, finance, accounting, English, and professional communication.
Location- Indian Institute of Information Technology Dharwad, Karnataka, India
Eligibility/Qualification–
IIIT Dharwad is looking for faculty who have demonstrated excellence in research and teaching and have excellent communication skills. If you feel you have the requisite credentials, capabilities, drive, and commitment, please apply.
Ph.D from a reputed Institute or university in a related discipline with a consistently good academic record. Candidates who have submitted their Ph.D. thesis may also apply.
Reservation is as per norms. Candidates belonging to SC/ST/OBC/EWS/PwD must include the relevant proof of category in their application.
Job/Position Description- 
Ref. No: IIITDWD/EST/RECR/2020/4067
Applications are invited for Faculty Positions on contract for one year which may be continued based on performance as well as the needs of the Institute.
Emoluments: Consolidated emoluments per month are as follows:
Assistant Professor: Rs. 82,000/-
Associate Professor: Rs. 1,63,000/-
Professor: Rs. 1,86,000/-
Candidates with exceptional qualifications or experience may be granted higher pay on the recommendations of the Selection Committee.
How to Apply- 
Interested candidates may apply online at the Institute website: http://www.iiitdwd.ac.in/Careers.php
Last Date for Apply–  21 July 2020 at 17:30 IST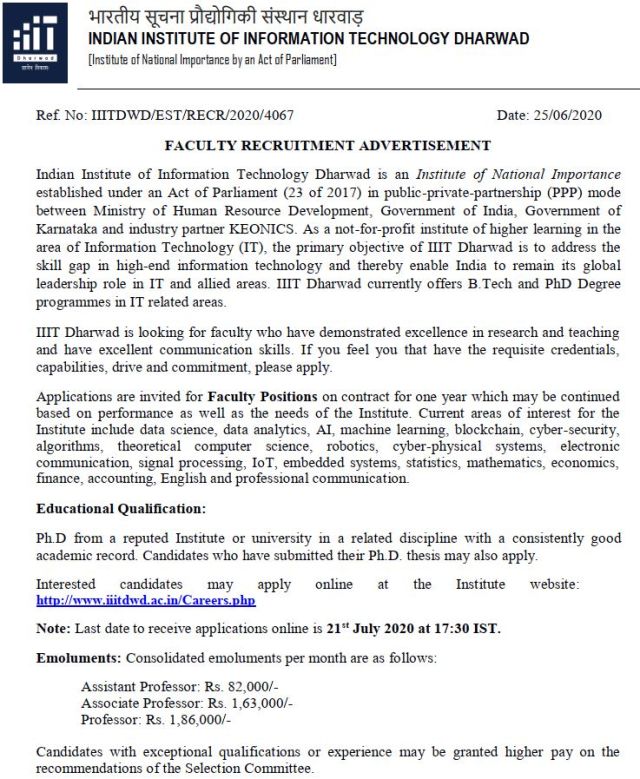 Join Our Discussion Forum – Keep your view, share knowledge/opportunity and ask your questions