Faculty Recruitment in Central University of Tamil Nadu (CUTN), India
Designation/Position- Faculty Recruitment in Central University
Central University of Tamil Nadu (CUTN), India invites application for Faculty Recruitment in Central University from eligible and interested candidates
About- Central University of Tamil Nadu (CUTN) is an institution of higher education established by an Act of Parliament in 2009. The University aims at the fashioning of an enlightened society founded on a relentless pursuit of excellence through innovation in teaching-learning process, interdisciplinary studies and research. Tucked away 8 kms. off the headquarters of Thiruvarur District, which is both in the heart of the Cauvery Delta
Research/Job Area-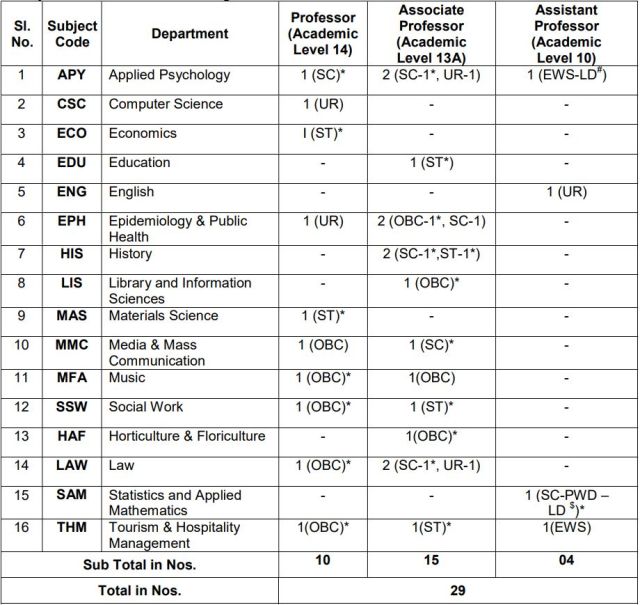 Guest Faculty Position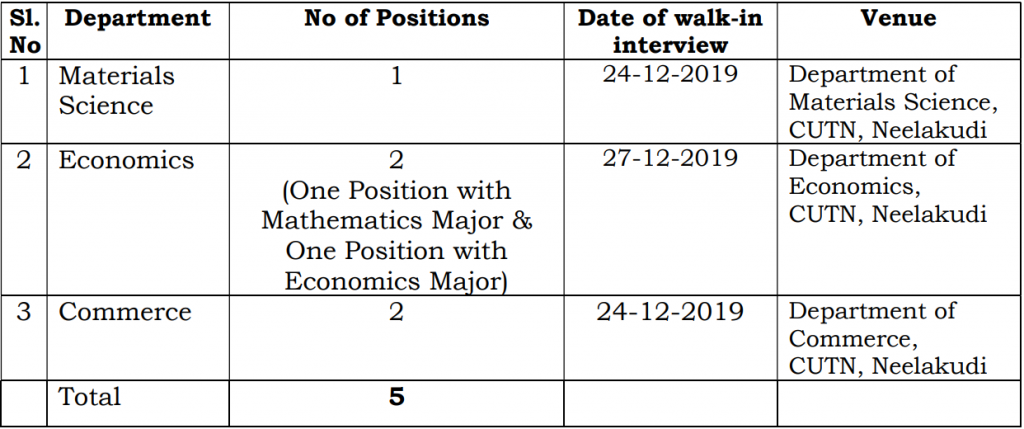 Location- Central University of Tamil Nadu (CUTN), India
Eligibility/Qualification– As per UGC regulation.
The qualifications and other conditions prescribed in the advertisement are as per UGC Regulations on Minimum Qualifications for Appointment of Teachers and other Academic Staff in Universities and Colleges and Measures for the Maintenance of Standards in Higher Education 2018 (herein after referred as UGC Regulations 2018) published in the Gazette of India, July 18, 2018(and NCTE norms wherever applicable) and are subject to future regulations/norms, including amendments in UGC regulations from time to time, stipulated by the MHRD/UGC applicable to such recruitments. For details of the regulations, please visit UGC website "www.ugc.ac.in".
Employment Notice No. CUTN/04/2019
Job/Position Description- CUTN invites applications from eligible candidates for the following posts to be filled by direct recruitment on regular basis
Selected candidates (Guest faculty) shall be paid an Honorarium of Rs 1500/- per lecture subject to a maximum of Rs. 50,000/- per month.
SRM University Careers – Faculty Positions in Andhra Pradesh, India
HPCL Recruitment for R & D Professionals – Apply Online, Total…
How to Apply-
Application Fee: Rs.500 /- for SC / ST / PWD candidates and Rs.750/-for Others (UR, OBC & EWS) categories. Payment can be made through online with the following link: https://www.onlinesbi.com/sbicollect/icollecthome.htm.
The applicant has to take a print out of the receipt and attach along with the application form. The receipt number with the date of payment shall be entered in the application form on the space provided thereon.
OR – DD may be drawn in favour of Central University of Tamil Nadu payable at Thiruvarur.
The completed application along with enclosures should be submitted on or before 26.12.2019 to the address given below: Application for the Post of ________________________ To The Joint Registrar Recruitment Cell Central University of Tamil Nadu Neelakudi Campus, Thiruvarur – 610 005, Tamil Nadu
Last Date for Apply– 26 December 2019
24 to 27 December 2019 for Guest Faculty Position
Join Our Discussion Forum – Keep your view, share knowledge/opportunity and ask your questions