Faculty Job in IGNOU Delhi, Indira Gandhi National Open University, India
Designation/Position-  Job in IGNOU Delhi
Indira Gandhi National Open University (IGNOU), India invites application for Job in IGNOU Delhi from eligible and interested candidates
About- The Indira Gandhi National Open University (IGNOU), established by an Act of Parliament in 1985, has continuously striven to build an inclusive knowledge society through inclusive education. It has tried to increase the Gross Enrollment Ratio (GER) by offering high-quality teaching through the Open and Distance Learning (ODL) mode. Job in IGNOU Delhi
Research/Job Area-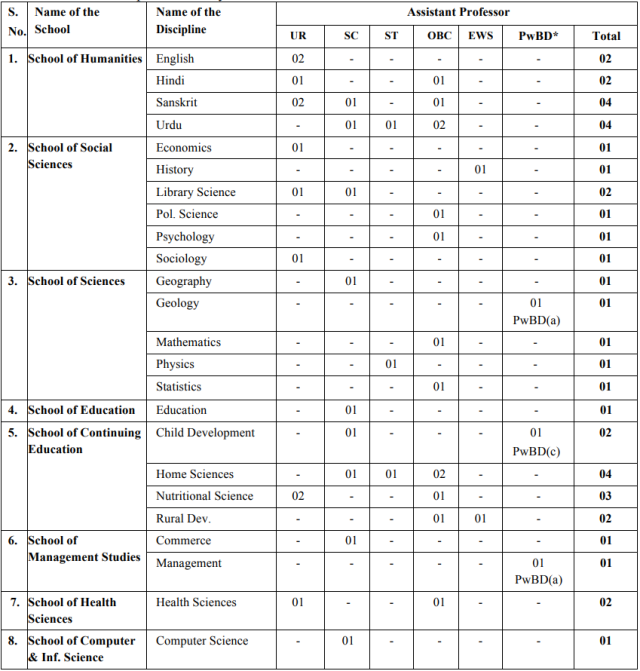 Location- Indira Gandhi National Open University
Eligibility/Qualification– The Minimum eligibility conditions shall be as per University Grants Commission Regulations 2018 and wherever required norms of concerned Regulatory bodies like NCTE, MCI etc.
Qualification criteria in detail for IGNOU
Also See – University of Delhi recruitment, Shivaji College, New Delhi, India
Faculty Recruitment 2019 in Central University of Haryana, India
Faculty Position in India, NIPER, Lucknow, UP, India
Delhi Technological University recruitment, Total No. of Posts = 165
Faculty Recruitment in NITUK, NIT, Uttarakhand, India
Job/Position Description- 
Academic Level 10 of 7th Central Pay Commission Rs. 57,700/-1,82,400/-, in various Schools of Studies at the Indira Gandhi National Open University.
How to Apply-  Online applications are invited from the eligible candidates, in the prescribed Application Proforma, for appointment to the post of Assistant Professor.
The hard copy of the printout of application submitted online alongwith self-attested copies of necessary certificates/documents should reach the Director, Academic Coordination Division, Indira Gandhi National Open University, Maidan Garhi, New Delhi- 110068 through registered/speed post within time.
Last Date for Apply– 20 October 2019
The last date for submission of online application is 20.10.2019 or 30 days from the date of publication of advertisement in the Employment News, whichever is later.
The last date for receipt of hard copy of filled in application submitted online is 25.10.2019 or 5 days after the closing date of submission of Online application.