Professor Vacancy in UP, Dr. Rammanohar Lohia Avadh University, India
Designation/Position- Professor Vacancy in UP
Dr. Rammanohar Lohia Avadh University, Ayodhya, UP, India invites application for Professor Vacancy in UP from eligible and interested candidates
About- The government of Uttar Pradesh, established Avadh University, Ayodhya, initially as an affiliating university by it's notification No. 1192/fifteen-10-46(6)-1975 dated 04 March, 1975 and appointed Prof.(Dr.) Surendra Singh as the first Vice chancellor. In 1993-94, it was renamed as Dr. Rammanohar Lohia Avadh University, Ayodhya in the memoriam of late Dr. Rammanohar Lohia, an epic socio-economic ideologue and freedom fighter par excellence.
Research/Job Area- Information Technology, Electronics Engg., Computer Science & Engg., Mechanical Engg., Civil Engg., Electrical Engg., English, Maths, Environmental Science, Physics, Chemistry, Buisness Administration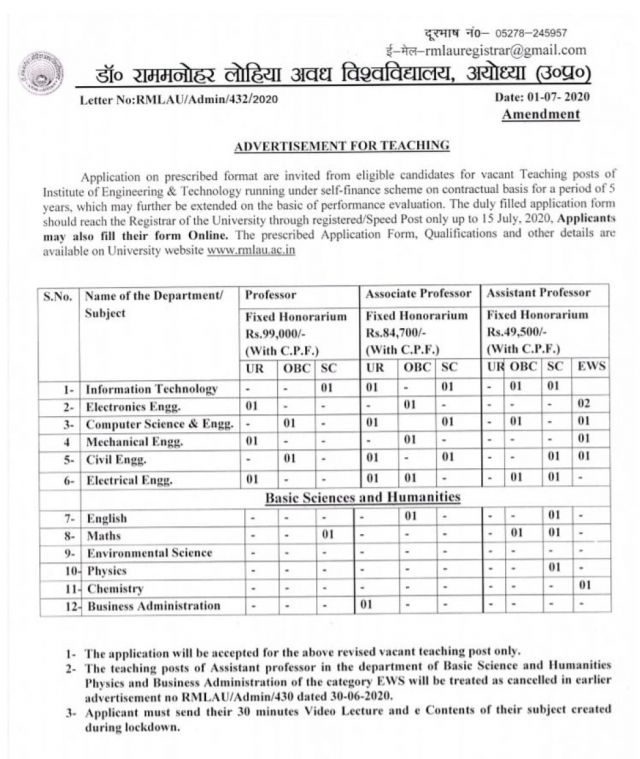 Location- Dr. Rammanohar Lohia Avadh University, Ayodhya, UP, India
Eligibility/Qualification–
The Eligibility norms will be determined as per AICTE regulations as well as university status.
Job/Position Description- 
Application on prescribed format is invited from eligible candidates for vacant Teaching posts of" in of Engineering & Technology running under sell-finance scheme Ian contractual basis for a period of 5 years, which may further be extended on the basis of performance evaluation.
1.The applications can be sent in both modes i.e. online or offline.
2.Online applications can be submitted on university website only. The online mode hardcopy of the application need not be sent. The application fees (Rs. 1000/= for UR/OBC and Rs. 500 for SC/ ST) has to be submitted online using Credit Card/ Debit Card/ Net Banking facility.
3. In offline mode, the prescribed application form can be downloaded from the university website and can be submitted with a demand draft of Rs. 1000/- for UR/OBC and Rs. 500/- for SC/ST candidates as application fee drawn in favor of "Finance Officer, Dr. Rammanohar Lohia Avadh University, Ayodhya " payable at Ayodhya with the application form. The application fee once paid shall not be refunded.
How to Apply- 
The duly filled application form should reach the Registrar of the University through registered/Speed Post only up to 15 July 2020, Applicants may also fill their form Online.
In offline mode the application should be sent to the Registrar, Dr. Rammanohar Lohia Avadh University, Ayodhya- 224001, U.P, through Registered/Speed Post up to, 15 July 2020 Incomplete/Unsigned applications and applications received after the last date will not be considered and will be rejected.
Last Date for Apply– 15 July 2020
See Position Details-
Skype Interview Tips and Tricks – Best Practices in the Video interview
Join Our Discussion Forum – Keep your view, share knowledge/opportunity and ask your questions