Recruitment for Faculty Positions NIT Raipur, Chhattisgarh, India
Designation/Position- Recruitment for Faculty Positions
NIT Raipur, Chhattisgarh, India invites application for Recruitment for Faculty Positions from eligible and interested candidates
About- National Institute of Technology Raipur (Formerly Government Engineering College Raipur), situated in the capital of a newly incepted state of Chhattisgarh, has proven to be "avant-grade' in the field of science and technology over past few decades in this region. From 1st December 2005, the institute has become the National Institute of Technology. The Institute is contributing to the technological, industrial and economical development of the region and the country for last five decades. The Institute has long recognized its role in engineering education, generation and dissemination of useful and relevant technologies in the service of the society. Recruitment for Faculty Positions
Research/Job Area-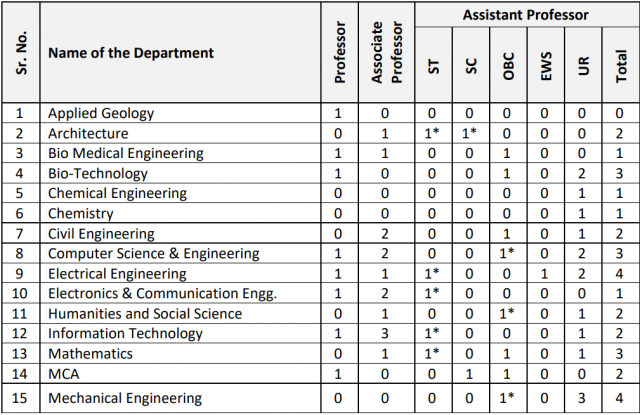 Location- NIT Raipur, Chhattisgarh, India
See Also – Recruitment of Faculty in Indian Institute of Technology Indore
Faculty Position in Central University of Jammu, J&K, India
Faculty Position in National Institute of Foundry and Forge Technology
Faculty Position in UOA, Uttarakhand Open University, India
Teaching Positions in Central University of Karnataka (CUK), India
Faculty Recruitment in Birla Institute of Technology Ranchi, Meshra
Eligibility/Qualification– As prescribed in Schedule 'E' of NIT Statutes (Amended 2017) (Ref. Gazette of India No. 651, dated July, 24, 2017) and others issued by MHRD, Govt of India from time to time. Candidates are required to go through the details of posts and instructions available on the website carefully before applying to ensure their eligibility for the post.
Job/Position Description- Applications are invited from Indian nationals for faculty positions in various departments of the Institute.
Assistant Professor Grade II – Pay Level 10, 11
Assistant Professor Grade I – Pay Level 12
Associate Professor – Pay Level 13A2
Professor Pay Level 14A2
Note: Posts of Assistant Professor (Grade II) having Pay Level 10 and 11 are contract positions
Period of Probation: One year only for regular positions not for contract positions in regular pay scale.
Processing Fee: Each application must be accompanied by non-refundable Processing Fee of Rs.500/– (Rupees Five Hundred only) for UR, EWS and OBC applicants and Rs. 250 from for SC/ST & PWD categories.
For the candidates applying from abroad, application fee will be US Dollar 50 or equivalent INR on the date of application.
How to Apply-
Interested persons may apply in the prescribed online application.
Complete hardcopy of application forms for each applied branch/discipline must be submitted in separate envelopes.
The envelope containing the application must be super-scribed as "Application for the Post of …………………………………………………………….. (please specify the faculty position being applied for) in the Department of …………………………………………………………………………………………"
Last Date for Apply– 15 November 2019
See also –
Faculty Position in Central University, CURAJ, Rajasthan, India
Faculty Position (Professor) 2019 in NIT Kurukshetra, Haryana, India
Faculty Job in IGNOU Delhi, Indira Gandhi National Open University, India
Faculty Recruitment in NITUK, NIT, Uttarakhand, India
Assistant Professors Position in Tamil Nadu, Total Vacancies = 2331
Last date of submission of online application is 15/11/2019 till 12:00 night.
Last date of receipt of hard copy of duly filled application form, along with all supporting documents, duly selfattested, and application fee details is by 25/11/2019 : 5.30 P.M.
Click here to apply- The portal for online application will be available from 15/10/2019 from 12:00 noon.