Research Associate Position in IIT, Indian Institute of Technology Delhi
Designation/Position- Research Associate Position in IIT
Indian Institute of Technology Delhi, India invites application for Research Associate Position in IIT from eligible and interested candidates
About- Indian Institute of Technology Delhi is one of the 23 IITs created to be Centres of Excellence for training, research and development in science, engineering and technology in India. Established as College of Engineering in 1961, the Institute was later declared as an Institution of National Importance under the "Institutes of Technology (Amendment) Act, 1963" and was renamed as "Indian Institute of Technology Delhi". It was then accorded the status of a Deemed University with powers to decide its own academic policy, to conduct its own examinations, and to award its own degrees.
Research/Job Area- Physics
Title of the Project = Dynamic Spin Injection and Spin-Orbit Torques in 2D-Transition Metal Dichalcogenides / Ferro-magnet Heterostructures (RP03698G
Location- Indian Institute of Technology Delhi, India
Faculty Positions in NISER – National Institute of Science, India
Skype Interview Tips and Tricks – Best Practices in the Video interview
Eligibility/Qualification– Ph.D. (Physics) in the field of spintronics from a reputed institute and 2 years of post-Ph.D. experience in spintronics using 2D materials specially 2D-TMD Sciences with at least one research paper in Science Citation Indexed (SCI) Journal.
Job/Position Description- Advertisement No.: IITD/IRD/078/2020
Applications from Indian nationals are invited for Project Appointment.
Appointment shall be on contractual basis with consolidated pay, renewable yearly or upto the duration of the project, whichever is earlier.
Consolidated fellowship / Payslab – Rs.47,000-49,000-54,000/-p.m. plus HRA @ 24%
Duration of the Project = Upto:19/03/2022
How to Apply- The candidates who are interested to apply for the above post should download Form No. IRD/REC-4 from the
IRD Website (http://ird.iitd.ac.in/rec) of IIT Delhi and submit the duly filled form with complete information regarding educational qualifications indicating the percentage of marks/division, details of work experience, etc. by email with advertisement No. on the subject line to Prof. Pranaba Kishor Muduli at email id: [email protected]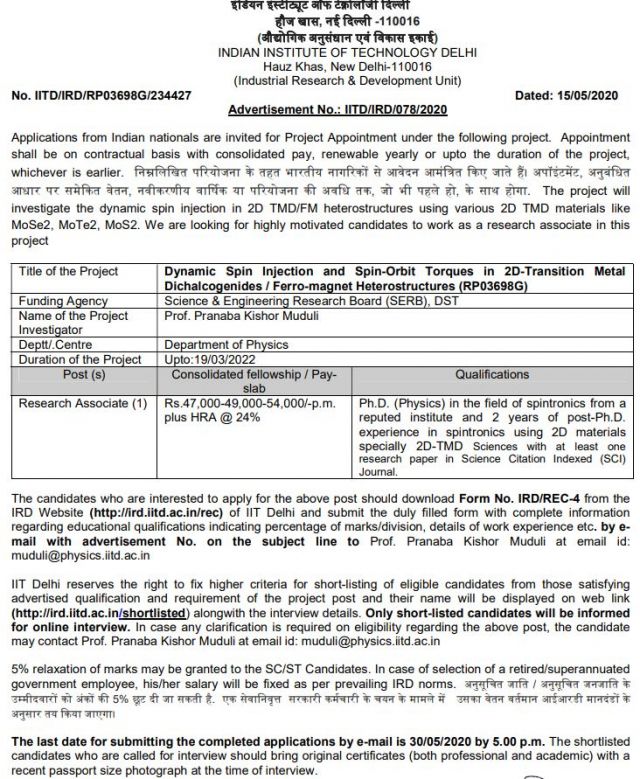 Last Date for Apply– 30 May 2020 by 5.00 p.m.
Join Our Discussion Forum – Keep your view, share knowledge/opportunity and ask your questions