Research Associate Positions in University of Delhi South Campus, India
Designation/Position- Research Associate Positions
University of Delhi South Campus, New Delhi, India invites application for Research Associate Positions from eligible and interested candidates
About- The Campus is now spread across 69 acres of green, hilly terrain and its buildings blend attractively with the natural surroundings. The various Departments are located in the Arts Faculty, the Faculty of Inter-disciplinary and Applied Sciences and the S.P. Jain Centre for Management Studies. Besides these, the Campus hosts a substantial library, a Health Centre, a Bank, a Post Office, DTC Pass Section and administrative and examination blocks. South Campus also provides some residential quarters for faculty members and the non-teaching staff. Outstation students are offered accommodation in three hostels: the Geetanjali Hostel for Women, the Saramati Hostel for Men and the Aravalli P.G. Men's Hostel.
Research/Job Area- Biology
Project Title – "Designing and evaluation of point of care diagnostic assay for detection of MDR Tuberculosis
using Loop mediated isothermal amplification combined with lateral flow dipstick."
Location- Department of Biophysics, University of Delhi South Campus, New Delhi
Faculty Recruitment in NITUK, NIT, Uttarakhand, India
Research Associate Position in IISER Bhopal, India – Under DST project
Eligibility/Qualification–
Ph.D. degree with at least 55% marks in M.Sc and experience to carry out molecular biology work with documented proof of Experience Certificate and two letters of recommendation in a sealed envelope.
The candidate should be well versed in techniques of molecular biology especially PCR, LAMP, RT-PCR, etc
Job/Position Description-
Principal Investigator= Prof. Daman Saluja
Salary: 47,000/- pm + 24% HRA.
The selected candidate will be required to carry out basic standardization of DNA isolation protocol from sputum and LAMP assay for antimicrobial resistance automation of the procedure followed by the clinical evaluation of a developed method for the detection of resistance in tuberculosis.
How to Apply-
Please apply on a plain paper enclosing a copy of the resume along with attested copies of the Degree and certificates (M.Sc. and B.Sc. Mark sheet and Degree), experience letter and recommendation letters.
Eligible candidates should apply on or before June 5th, 2020 in a closed envelope marked with the post. Short listed candidates will be informed through e-mail for the interview.
Note: those who have applied earlier against Advt. no./ACBR/2020, Dated: 03/01/2020 need not apply again.
Last Date for Apply– 05 June 2020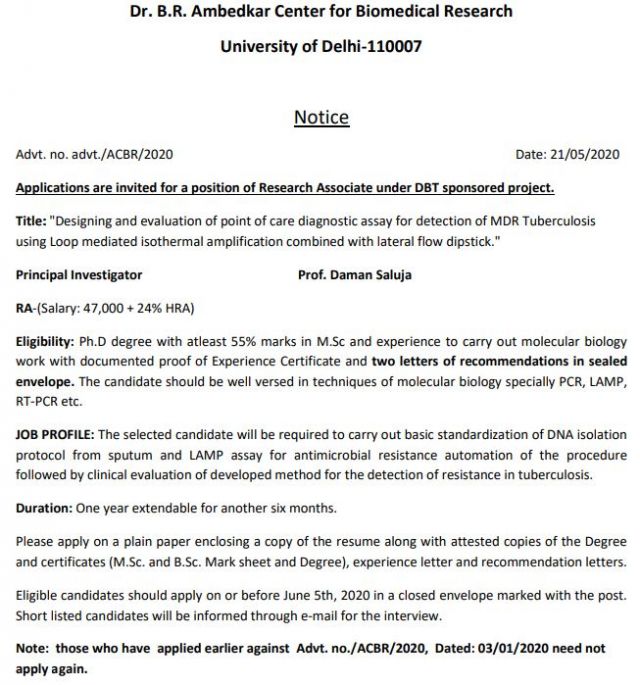 Join Our Discussion Forum – Keep your view, share knowledge/opportunity and ask your questions