Designation/Position- Research Fellowships in India
Ministry of Earth Sciences (MoES), Govt. of India invites application for Research Fellowships in India from eligible and interested candidates
About- The Ministry of Earth Sciences (MoES), Govt. of India is mandated to provide the nation with best possible services in forecasting the monsoons and other weather/climate parameters, ocean state, earthquakes, tsunamis and other phenomena related to earth systems through well integrated programmes. The Ministry also deals with science and technology for exploration and exploitation of ocean resources (living and non-living), and play nodal role for Antarctic/Arctic and Southern Ocean research.
The ministry has 10 key organizations such as:
(1) India Meteorological Department (IMD)
(2) National Center for Medium Range Weather Forecasting (NCMRWF), Delhi
(3) National Center for Seismology, (NCS), Delhi
(4) Indian Institute of Tropical Meteorology (IITM), Pune
(5) Indian National Center for Ocean Information Services (INCOIS), Hyderabad
(6) National Center for Polar and Ocean Research (NCPOR), Goa
(7) National Institute of Ocean Technology (NIOT), Chennai
(8) National Center for Coastal Research (NCCR), Chennai
(9) National Center for Earth Science Studies (NCESS), Trivandrum
(10) Center for Marine Living Resources and Ecology (CMLRE), Kochi
Research/Job Area- Various research area
Location- Moes Organizations, India
CSIR – Nehru Science PDF (Postdoctoral Research Fellowship Scheme)
Eligibility/Qualification–
In addition to the basic qualifications as below table, candidate should have qualified NET/GATE/LS (CSIR/UGC/ICAR). Candidates appeared for final year of M.Sc./ M.S./ M.Tech can apply for the post and should write their aggregate marks up to the latest semester they have appeared but their appointment is subject to having passed the M.Tech./M.Sc./M.S. examination as evidenced by mark sheets/provisional degree certificate.
Age Limit: 28 years as on last date of application;
For General and OBC Category: Minimum 60% aggregate mark in the qualifying examination is essential.
For SC/ST/Physically Handicapped Category: A Minimum 55% aggregate mark in qualifying examination is essential.
Candidates who would like to avail fellowship from CSIR/UGC/ICAR and work as JRF in MRFP are also encouraged to apply. Such candidates need to specify in the online application form about their preference of fellowship (whether availing MRFP Research Fellowship or CSIR/UGC/ ICAR fellowship).
Upper age limit is relaxed by 5 years for SC/ST, 3 years for OBC, 10 years for physically handicapped and as per rule for ex-servicemen.
Reservation: As per GOI norms. All applications have to be sent online via the online application link at https://iitmjobs.tropmet.res.in/job/rarf-mrfp-2020.php
Job/Position Description-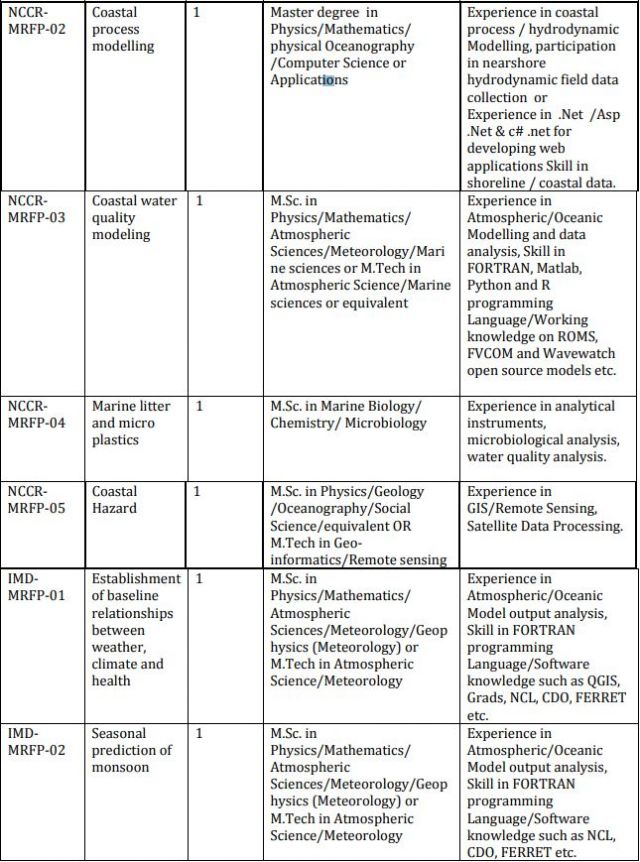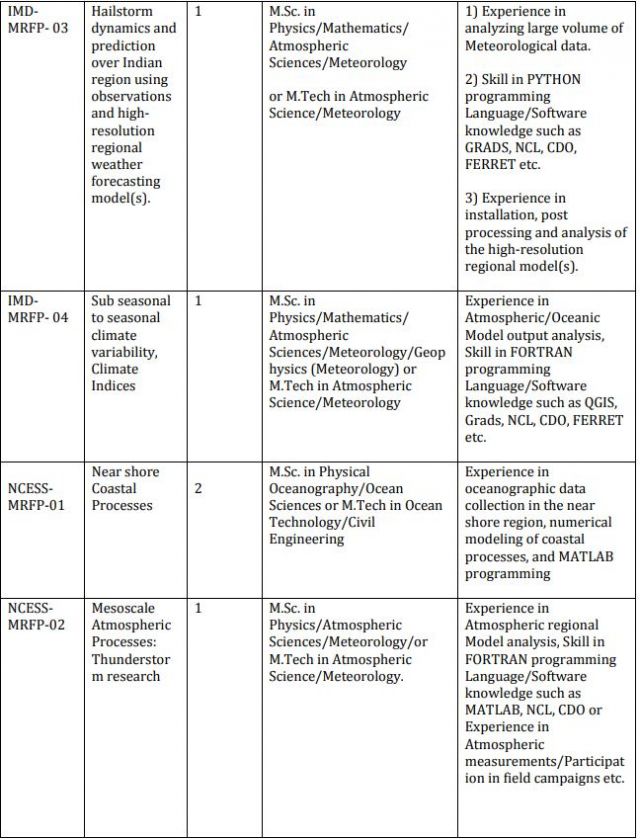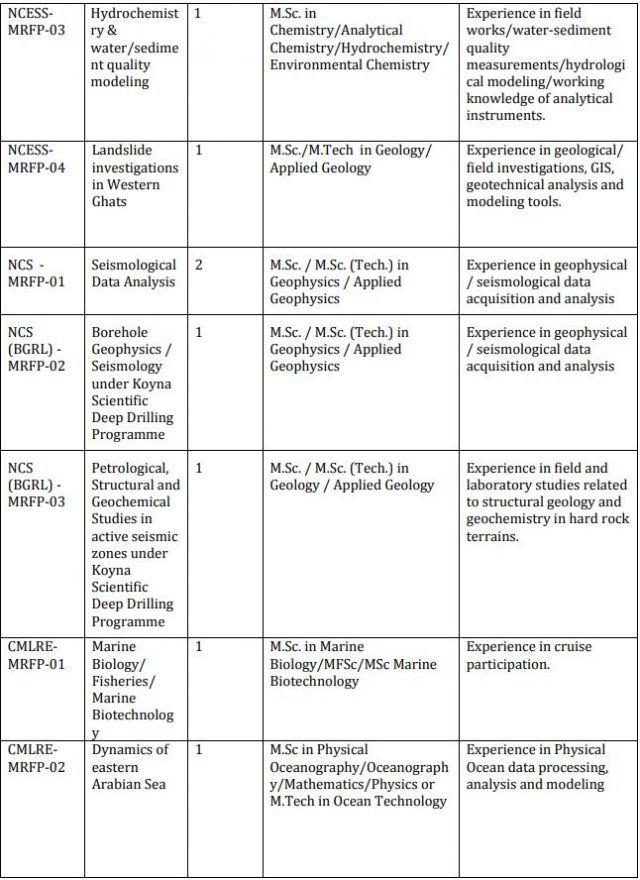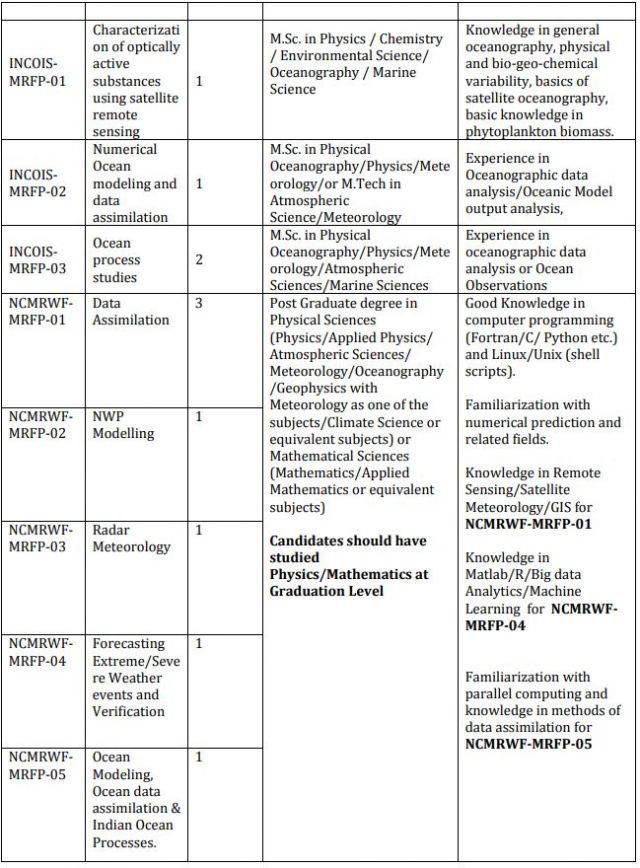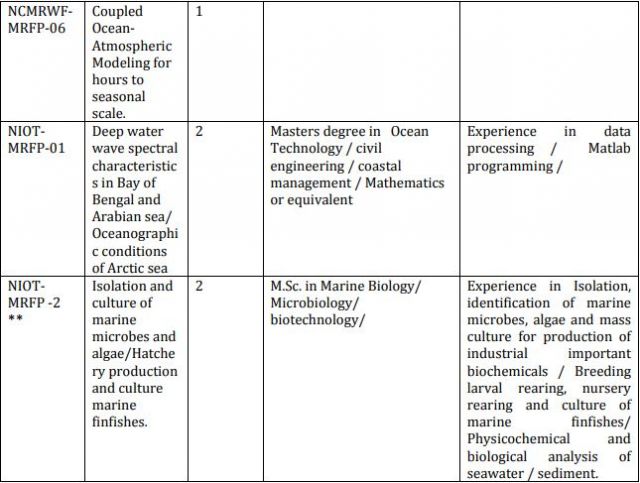 Stipend (JRF): Rs.31, 000/- p.m. plus admissible HRA;
Tenure: 04 years (as followed in DST norms)
How to Apply- Candidates should apply against respective Position Code. Applicants are allowed to apply for more than one position.
In any circumstances wrong entry of position code will not be rectified after the application is submitted. In case of rectification required a fresh application may be filed within the last date of application.
Last Date for Apply– 31 July 2020
Join Our Discussion Forum – Keep your view, share knowledge/opportunity and ask your questions