Research Officer Position in CCRAS, New Delhi, India, Total Post =186
Designation/Position- Research Officer Position
Central Council for Research in Ayurvedic Sciences (CCRAS), New Delhi, India invites application for Research Officer Position from eligible and interested candidates
About- The Central Council for Research in Ayurvedic Sciences (CCRAS) is an autonomous body under the Ministry of AYUSH. The Council carries out its activities and functions through its network of 31 Institutes. The Headquarters of the Council is situated in Delhi at the above address. There is an attractive performance based time bound in-situ promotion scheme for "Group-A" Medical Doctors and Non-medical Scientists of this Council besides vacancy based promotions. Other Group "B" and "C" are also entitled for vacancy based promotions and MACP benefits. Research Officer Position
Research/Job Area- Chemistry, Pharmacology, Bio-Chemistry, Medicine, Animal/Experimental Pathology, Ayurveda, Microbiology, Botany, Clinical Psychology, Agriculture/Horticulture, Biotechnology and related area
Location- Central Council for Research in Ayurvedic Sciences (CCRAS), New Delhi, India
Eligibility/Qualification–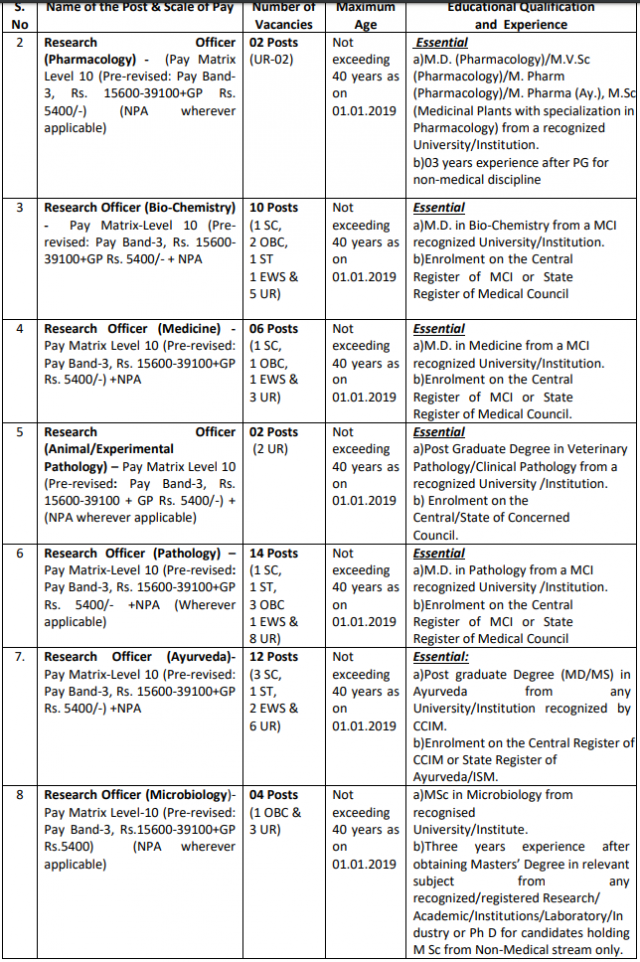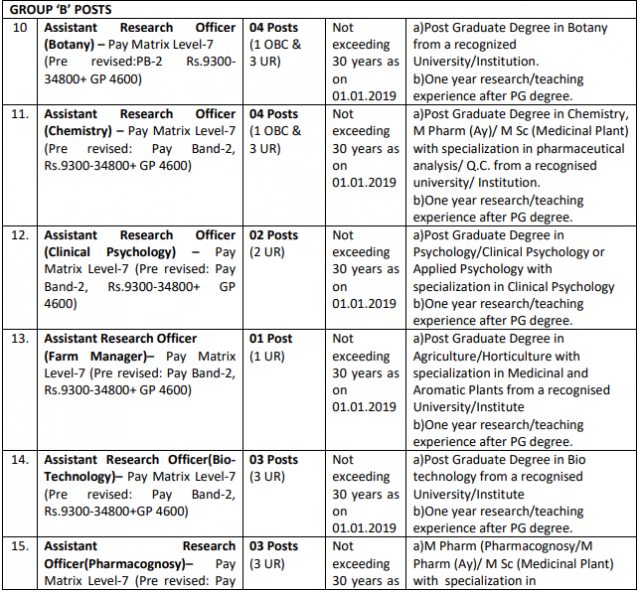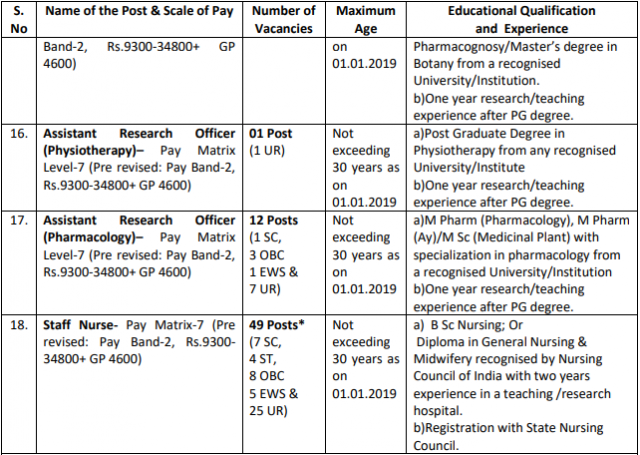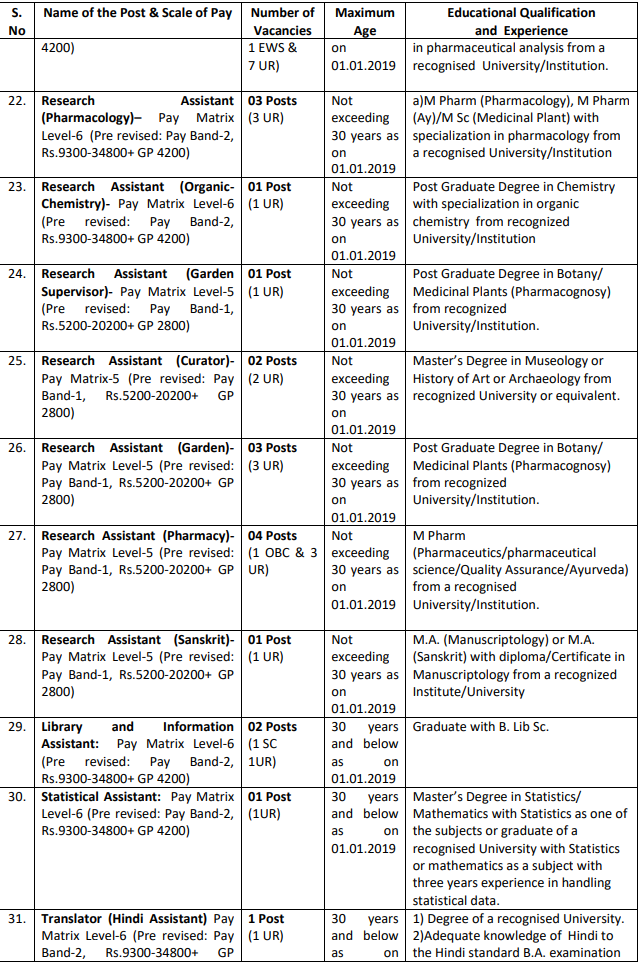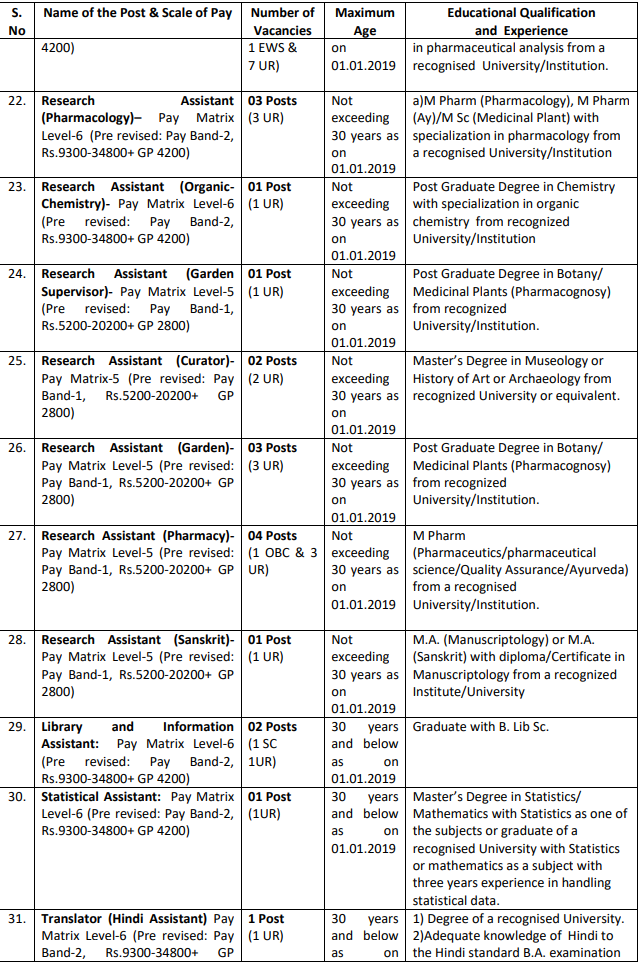 Job/Position Description- Applications are invited for the various Group "A", "B" and "C" posts.
CITIES OF EXAMIANTION The Computer Based Test will be conducted in Test Centres located at (1)Ahmadabad, (2)Bengaluru, (3)Bhopal, (4)Bhubaneswar, (5)Chandigarh/Mohali (6)Chennai, (7)Dehradun, (8)Guwahati (9)Hyderabad (10)Jaipur, (11)Jammu, (12) Kolkata, (13)Lucknow. (14) Mumbai (15)Nagpur, (16)New Delhi & Greater Noida, (17)Panaji, (18)Patna,(19)Raipur, (20)Ranchi, (21)Shillong, (22)Thiruvanathapuram/Kochi, (23)Varanasi and (24)Vijayawada.
However, CCRAS reserves right to cancel or add more cities and centres.
The computer based test could be shifted to any other city of examination depending upon the administrative feasibility.
How to Apply- Eligible and interested candidates can apply online.
The on-line registration process involves 02 (two) steps by Signing-In and Login to Fill-in and Submission of Online application.
The candidates should ensure the completion of both the Step 1 (Sign In) and Step 2 (Registration & Submission of Online Application and online payment of Application Fee (if applicable) by the stipulated date and time.
For Contact- [email protected], Phone: 022-68202705
Last Date for Apply– 31 October 2019
Official Website-