Research Scientist Job in India – NESAC, Meghalaya, India, [Level 10]
Designation/Position- Research Scientist Job in India
North Eastern Space Applications Centre, Meghalaya, India invites application for Research Scientist Job in India from eligible and interested candidates
About- North Eastern Space Applications Centre (NESAC), Umiam is an autonomous body functioning under the Department of Space and North Eastern Council (NEC) to assist development process in North Eastern Region using space science and technology. It undertakes specific applications projects using remote sensing, GIS, satellite communication and conducting space science research. The Centre's services are helpful in natural resources management, infrastructure planning, health, education, disaster management and Earth Observation Applications Mission.
Research/Job Area- Various research area
Location- North Eastern Space Applications Centre, Meghalaya
CDAC Recruitment – Centre Head Positions, Group.-A in C-DAC, India
Senior Research Scientist Position at TIGS-CI, Bangalore, India
Eligibility/Qualification–
1 M.E./M.Tech or equivalent post graduate degree in 1st class with an aggregate minimum of 60% or CGPA/CPI grading of 6.84 on a 10 scale or equivalent.
2. M.Sc degree should be in first class with an aggregate minimum of 65% (average of all semesters) or CGPA/CPI grading of 6.84 on a 10 scale or equivalent.
3. Rounding-off marks/CGPA Grading is not allowed 4. All degrees should be duly recognized by AICTE/UGC, or any other organization authorized by Government of India to do so.
Note:
(i) Candidates having M.E./M.Tech degree in the relevant discipline must clearly mention with supporting proof, the specialization/ dissertation/ thesis in the relevant field for consideration of their application.
(ii) Teaching experience in the related fields will be considered provided necessary supporting document by the concerned authority of the institute on the list of subjects taught by the applicant.
(iii) Experience letter should contain the details of work done by the applicant under different projects.
(iv) In case of foreign degree holders where the documents/degree/certificates are not in English then translation and authorized transcription must be attached and equivalency certificate from Association of Indian University (AIU) must also be scanned and attached. Failure to produce equivalency certificate at the time of interview shall lead to disqualification.
(v) Selection will be purely based on performance in the interview.
(vi) The qualification prescribed and the benchmark are only the MINIMUM requirement and fulfilling the same does not automatically make a candidate eligible Interview.
(vii) The Centre reserves the right not to fill up any of the posts, if it so decides.
Age Limit::35 years as on 23.03.2020 (40 years in case of SC/ST candidates and 38 years for OBC candidates).
Ex-serviceman and Persons with Disabilities are eligible for age relaxation as per Government of India orders.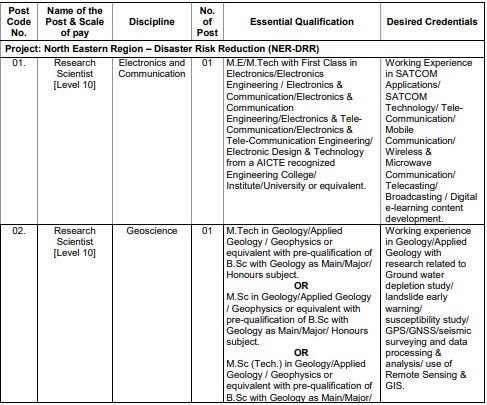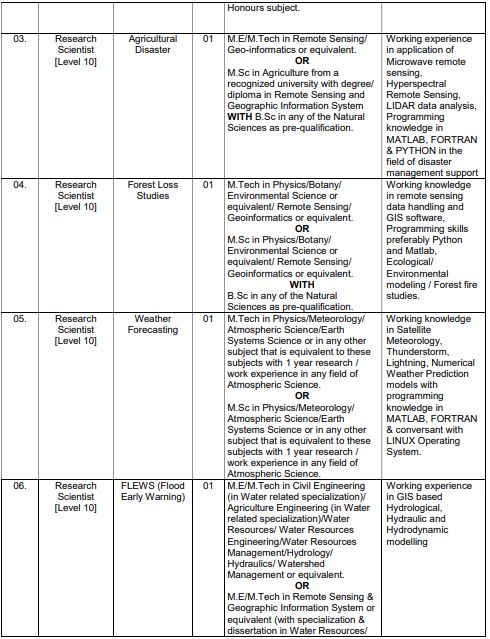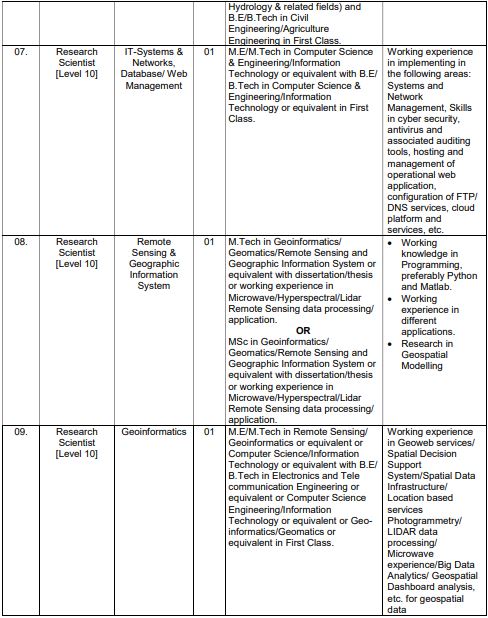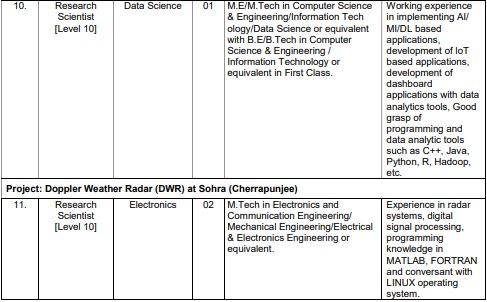 Job/Position Description-
Applications are invited from eligible candidates for the following positions on temporary basis under given projects for a period of one year which can be further extended based on the performance of the candidate in the periodical reviews, for a maximum period of 03 (three) years in total or co-terminus with the project, whichever is earlier.
Pay & Allowances: Selected candidates will be offered the fellowship as Research Scientist in the Level 10 of the Pay Matrix (₹ 56100-177500).
The gross emoluments in the minimum of Pay Band will at present be approximately ` 56100/-. In addition HRA and medical benefits for self only will be allowed as per rules.
How to Apply- Candidates need to apply through online mode only.
After registration take a print out of the application summary and the print-out is to be brought along with passport size photograph and documents supporting the data furnished in application at the time of Interview.
Note that site will not be open for printing after 16:00 hours of 06.04.2020.
For Contact- [email protected]
Last Date for Apply– 23 March 2020
Join Our Discussion Forum – Keep your view, share knowledge/opportunity and ask your questions