Ripple-IIITH Ph.D. Fellowship in IIITH, Fellowship- 50,000₹/ month
Designation/Position- Ripple-IIITH Ph.D. Fellowship
International Institute of Information Technology, Hyderabad, India invites application for Ripple-IIITH Ph.D. Fellowship from eligible and interested candidates
About- International Institute of Information Technology, Hyderabad (111TH) invites applications for Ripple post-doctoral fellowship in blockchain-related areas. Ripple-IIITH Ph.D. Fellowship
Ripple Labs, Inc. is an American FinTech company that is committed to blockchain research and has launched University Blockchain Research Initiative (UBRI). Ripple has chosen many university partners, IIITH is one of its early university partners to promote blockchain research and set up a blockchain Center of Excellence (COQ. Through this COE, IIITH is actively researching different aspects of blockchain such as security, next-gen blockchains, game-theoretic issues, ML over blockchains, e-governance over blockchain, etc.
Research/Job Area- CSE / EE / ECE
Location- International Institute of Information Technology, Hyderabad, India
Write an Email to Professor: Complete Dos and Don'ts Discussion
Follow-up email to a professor: When and how you should write
Eligibility/Qualification– B.Tech B.E M.Tech/ MS in CSE / EE / ECE from reputed Indian or foreign institute/university. The candidate has relevant exposure to the required research areas.
Selection – Candidates will be interviewed by a committee that will consider their resume, motivation, and understanding of blockchain technology and fundamentals. The committee decision will be final.
Job/Position Description-
Fellowship Support – Monthly stipend of Rs. 50,000 p.m. up to 4 years or submission of the thesis, whichever is earlier. The fellowship would also support travel to top conference forums.
IIITH invite applications for pursuing PhD at IIITH in blockchain on any of the following aspects-
Security Aspects of BLOCKCHAIN
Distributed Database with Blockchains
AI and BLOCKCHAIN
Applications of Blockchain
Role of Game Theory for Blockchain In E-Governance
How to Apply- Email your resume, SOP, and Research Statement to [email protected] The student selected through PGEE for P.hD are also eligible to apply. The Ripple Ph.D. Fellowship will be awarded to a maximum of two candidates per academic year.
Last Date for Apply– Open Position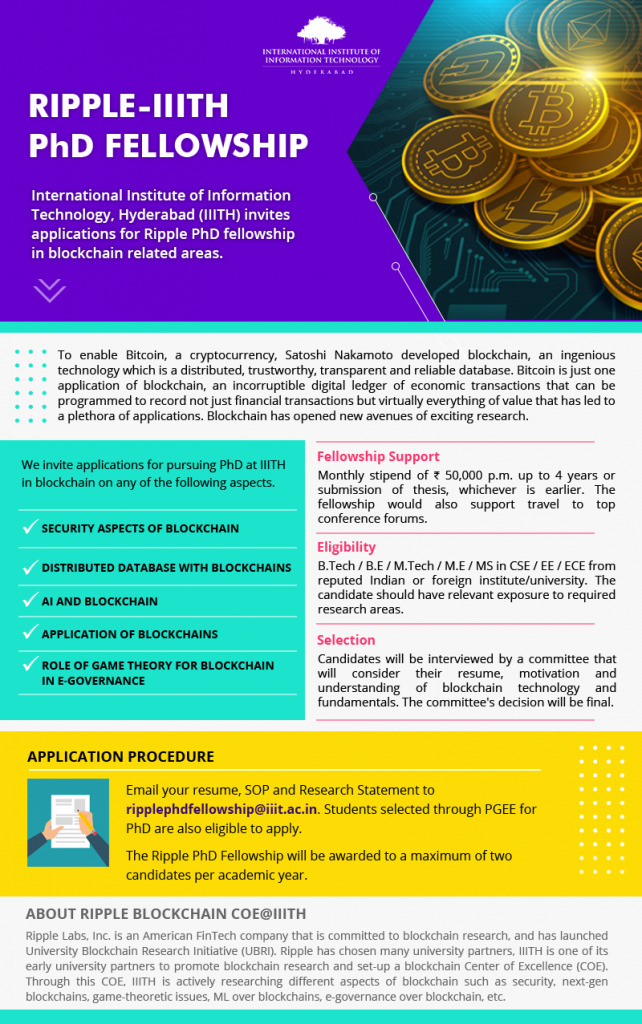 Join Our Discussion Forum – Keep your view, share knowledge/opportunity and ask your questions