Scientific Positions in CSIR- CFTRI, Mysuru, India, Total Post = 31
Designation/Position- Scientific Positions in CSIR
CSIR-Central Food Technological Research Institute (CFTRI), Mysuru, India invites application for Scientific Positions in CSIR from eligible and interested candidates
About- CSIR-Central Food Technological Research Institute (CFTRI), Mysuru (A constituent laboratory of Council of Scientific and Industrial Research, New Delhi) is one of the premier R&D institutions in the country dedicated to cutting-edge research in the area of Food Science 86 Technology. The ongoing programmes are primarily focused under Four major broad areas such as Technology Development, Engineering Sciences, Translational Research and Food Safety. Currently the institute is vibrant with CSIR Mission projects, Focused Basic Research along with a large number of in-house projects. Industry sponsored projects are also one of the highlights in which specific and relevant problems are addressed by experts in a time bound manner. It has excellent facilities to promote all round research comparable to world's leading Scientific Establishments.
Research/Job Area- Food Science & Technology
Location- CSIR-Central Food Technological Research Institute (CFTRI), Mysuru
Faculty Position 2020 in NITA, National Institute Of Technology, Agartala
Assistant Professor Positions in BAU, Sabour, India- Total Post = 310
Eligibility/Qualification– See in detail advertisement
Job/Position Description- CSIR-CFTRI invites online applications from Indian citizens who are bright, highly motivated, enthusiastic and qualified Researchers/Professionals in order to contribute towards Nation's development by pursuing in-depth R&D in the diverse areas of Food Science 86 Technology to fill up the following scientific positions.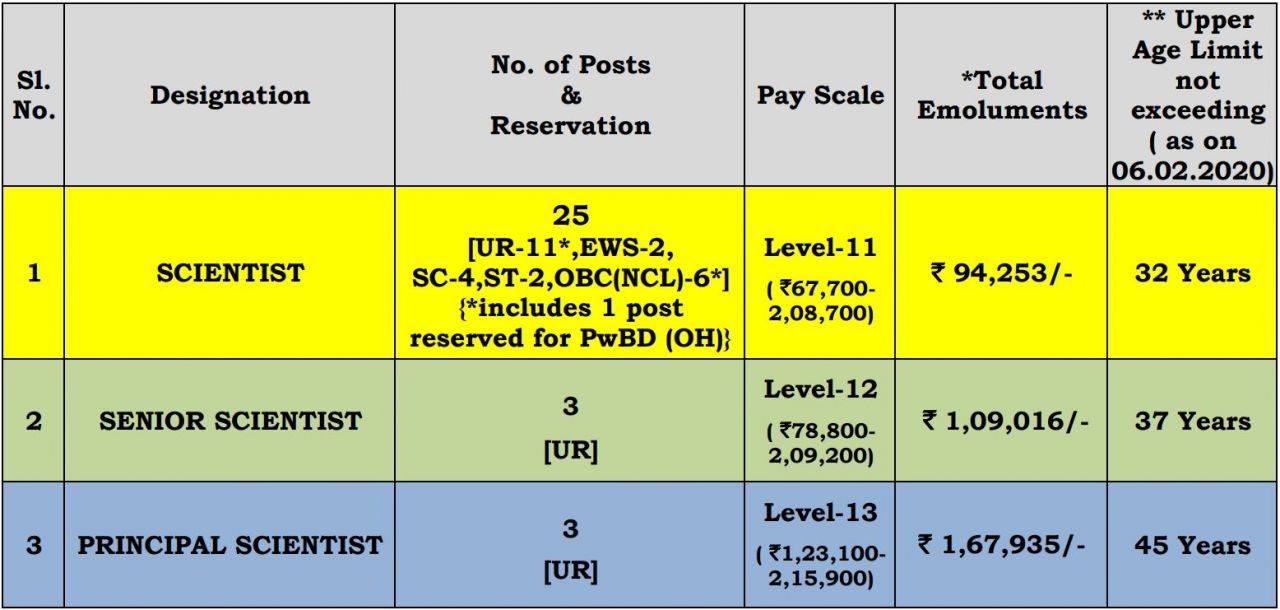 How to Apply-
Eligible and interested candidates are required to apply ONLINE.
Candidates are advised to go through the instructions for online filling of the application carefully.
Online Application will be available on CSIR-CFTRI website https://www.cftri.res.in. Open from 08.01.2020 (10.00 a.m. onwards) and Closes on 06.02.2020 (till 05.00 p.m). It is mandatory to take the print out of the successfully submitted online application form, sign the same and attach the self attested mandatory documents & photo. The print out of the application along with the relevant documents must reach CSIR-CFTRI on or before 21.02.2020.
d) A non-refundable application fee of Rs. 100/- (one Hundred) only wherever applicable may be deposited through https://www.onlinesbi.com/sbicollect/icollecthome.htm?corpID=299364 and printed copy of e-receipt of the same must be enclosed with the application.
The candidates belonging to SC/ST/PwBD/Women/Regular CSIR Employees/Abroad Candidates are exempted from payment of application fee.
Candidate is required to upload his/her recent passport size scanned colour photograph, signature each (max size 50 KB) and also relevant certificates at the specified places in the online application.
In case of Universities/Institutes awarding CGPA/SGPA/OGPA grades etc., candidates are required to convert the same into percentage based on the formula as per their University/ Institute.
Candidates should keep a copy of the application print-out and payment details, if any, for their record. Print-out of Application and payment details will not be available after 05.00 p.m. on the last date of online Application i.e. 06.02.2020.
Fee once paid will not be refunded on any account nor can it be held in reserve for any other recruitment or selection process.
Only a single application will be entertained from each candidate for each postcode. IN CASE A CANDIDATE SUBMITS MULTIPLE ONLINE APPLICATIONS FOR A SINGLE POSTCODE WITH DIFFERENT EMAIL IDS, ONLY THE LATEST COMPLETED APPLICATION WILL BE CONSIDERED.
A candidate can apply for multiple postcodes subject to fulfilling all eligibility criterion attached to each individual post code. However, candidate needs to fill the application (except primary/registration details) with the requisite application fee separately for each post code.
The print out of the successfully submitted online Application must be duly signed by the candidate and accompanied by One recent Passport size Coloured photograph, self attested copies of the certificates, mark sheets, testimonials in support of age, educational qualifications, experience , caste certificate (if applicable), certificate to be produced by EWS candidates, copy of E-RECEIPT of the Application fee paid (if applicable) should be sent in an envelope superscribed "APPLICATION FOR THE POST OF "__________ " (Post
Code )" "Advertisement No. 119/2019' by speed post/registered post only so as to reach on or before 21.02.2020 to the address given below, separately for each post code, in case a candidate applies for multiple post codes.
Recruitment Cell (E-I Section),
CSIR-Central Food Technological Research Institute Cheluvamba Mansion,
Mysuru – 570020,
Karnataka.
Last Date for Apply– 06 February 2020
Last Date for receipt of Online Applications : 06.02.2020 (upto 5:00 P.M)
Last Date for receipt of Hard Copy Applications : 21.02.2020
Click here to apply-
Join Our Discussion Forum – Keep your view, share knowledge/opportunity and ask your questions