Scientist 'B' (Project) Position in National Brain Research Centre, Gurgaon, India
Designation/Position- Scientist 'B' (Project) Position
National Brain Research Centre, Gurgaon, India invites application for Scientist 'B' (Project) Position from eligible and interested candidates
About- The vision we have for NBRC is that it would not only grow into a world-class institute for brain research but also create a vibrant, active neuroscience community by catalysing the overall growth of this discipline in the country. The expected benefit from this initiative would be the generation of skilled manpower in this important area of research who would help India achieve an international leadership in this frontier area of science. This initiative would also help Indian neuroscientists to participate in global research efforts as equal partners. The knowledge base generated from these efforts would help diagnostic tools and therapeutic strategies for the treatment of brain-related disorders. A unique role for NBRC is that it will act as a node with linkages to other centres carrying out neuroscience research in the country, acting in effect as the "hub of the wheel" rather than the wheel itself.
Research/Job Area- Biotechnology or equivalent degree
Location- National Brain Research Centre, Gurgaon, India
Skype Interview Tips and Tricks – Best Practices in the Video interview
Eligibility/Qualification–
Minimum qualification:
M. Sc. in Life Science / B. Tech. (Biotechnology) or equivalent degree from a recognized University / Institute.
Strong academic record matriculation onwards with minimum of 55% marks
Desirable qualification: Experience in managing research project (s) and /or coordinating with investigators. Ability to
multitask and document the activities of the project.
Job/Position Description-
Advertisement No. Acad./04/2020
Mode and duration of appointment: Appointment will be made on a contract basis, initially up to 17th December 2020, or the duration of the project, whichever is earlier. Continuation of appointment will depend upon satisfactory performance during the appointment period and validity of the project.
The post is co-terminus with the project
Duties: Scientist 'B' will be involved in coordination with different Centres and investigators involved in the study for the smooth running of the project. The responsibilities also include preparing reports and organizing meetings etc.
Emoluments: ` 50,000/- per month (consolidated) with 10% increase every subsequent year.
No other allowances / benefits will be admissible.
Accommodation: Accommodation may be provided according to rules of NBRC and subject to availability.
Project Site Principal Investigator: Director, NBRC.
How to Apply-
Applications are invited for the position of Scientist 'B' (Project) under the Dementia Science Programme (Bio-banking) funded by DBT and coordinated by Director, National Brain Research Centre, Manesar, Haryana. The interested candidates fulfilling the requirements can submit their application latest by 30 June 2020 to "The Administrative Officer, National Brain Research Centre, Nainwal Mode, Manesar-122 052, Gurugram, Haryana."
Last Date for Apply– 30 June 2020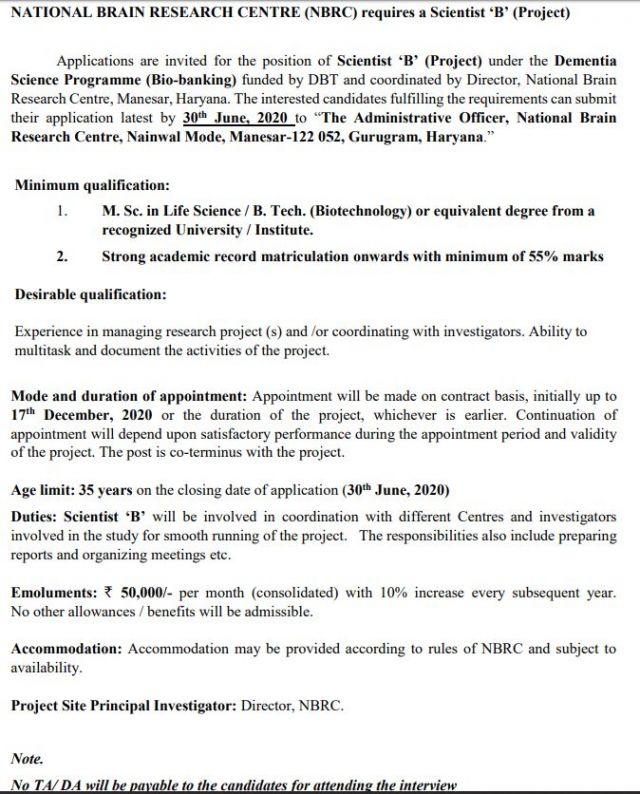 Join Our Discussion Forum – Keep your view, share knowledge/opportunity and ask your questions