Teaching Positions in Central University of Karnataka (CUK), India
Designation/Position- Teaching Positions in Central University
Central University of Karnataka (CUK), India invites application for Teaching Positions in Central University from eligible and interested candidates
About- The Central University of Karnataka (CUK) has been established by an Act of the Parliament (No. 3 of 2009) at Kalaburagi, Karnataka. It is one of the 16 new Central Universities established by the Government of India. The University has 654 acres campus, situated near Kadaganchi village in the district of Kalaburagi, Karnataka State. It is claimed that CUK is the first Central University to move to its permanent campus in a short time among the new ones. The main objective of the University is integrating the components of Teaching, Research, Innovation, Training and Skill Development (TRI-TSD) with an aspiration to excel in dual degree, post graduate and doctoral programs. The University offers the programs in following five dominant areas: Arts, Humanities, Management, Sciences, and Engineering. Currently the University is running 16 Departments spread in 8 Schools and 1 Centre, and offering 9 Dual degree programs, 15 Master degree programs, 16 Research (PhD) programs. Teaching Positions in Central University
Research/Job Area-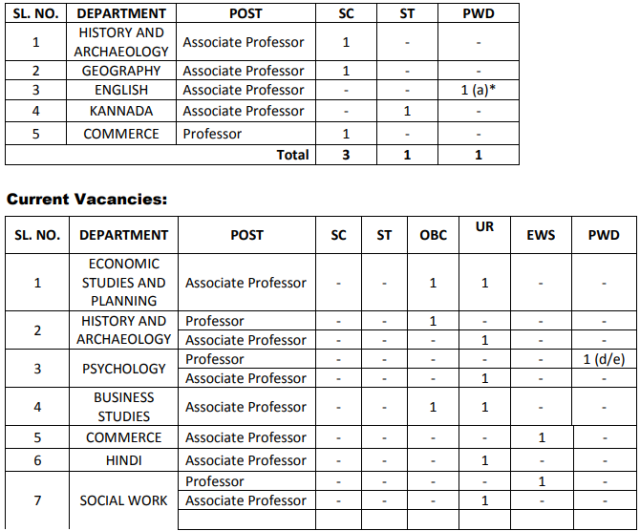 Location- Central University of Karnataka (CUK), India
Eligibility/Qualification– The qualifications, Pay Scales and other conditions for the advertised teaching positions shall be in accordance with UGC Regulations.
Job/Position Description- The Central University of Karnataka invites online applications from eligible citizens of India/Overseas Citizens of India with valid documents as applicable are eligible to apply for recruitment to the teaching positions at the levels of Professor and Associate Professor.
Rs.1,500/- for UR/OBC/EWS category applicants
Rs.1,500/- for UR/OBC/EWS category applicants
How to Apply- Application forms have to be filled only in online mode within the prescribed time limit indicated in the advertisement.
Offline forms will not be accepted.
The hard copy of the online application along with self-attested copies of testimonials/certificates in an envelope duly superscripted "Application for the post of ________________________________'' must be sent to The Registrar, Central University of Karnataka, Kadaganchi, Aland Road, Kalaburagi District -585 367 so as to be received by the undersigned on or before 04 November, 2019 up to 5:00 p.m.
Last Date for Apply– 25 October 2019
Date of Commencement of online Application – 01 October 2019
Last date of online Application – 25 October 2019
Last date of receipt of hardcopy of online application along with all enclosures- 04 November 2019